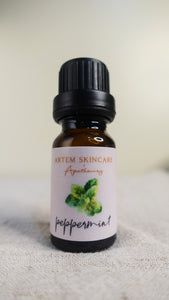 Botanical Name: Mentha x piperita L.
Origin: USA
Process: Steam Distilled Essential Oil
Plant Part: Leaves
Use: Aromatherapy / Natural Perfumery. Always dilute.
Note: Top Note
Aroma Families: Green, Minty, Herbal
Aroma: Fresh, green, cooling, penetrating, and minty but with a distinctive grass-like undertone rather than the Peppermint-candy sweetness in the undertone of our other Peppermint oils.
Contraindications: Do not apply to or near the face of infants or children; otherwise has GRAS status (Generally Recognized as Safe). Avoid use with children less than 2-½ years old, elders, epileptics, pregnant and/or nursing women; may contra-indicate homeopathic remedies. Do patch test.
10mL