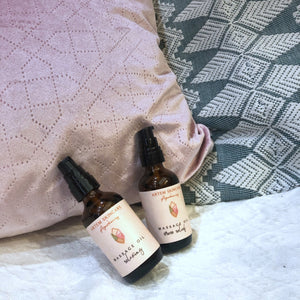 Blended with your health and wellness in mind. Our aromatherapy massage oil is made using plant-based oils, therapeutic grade, 100% pure essential oils and Vitamin E.
It is light and provides an excellent glide which quickly absorbs deeply into the skin and is circulated throughout, providing optimum benefit to the mind and body.
Energy infused using crystal energy that allows the body to heal, relax and is also good for the skin and spirit. 
2 variants:
Stress Relief (floral and citrus notes)
Relaxing (with menthol crystals)
60mL