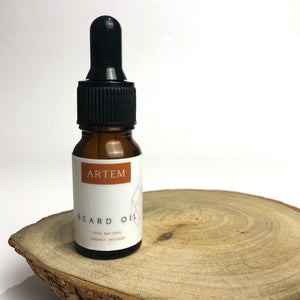 Made with premium oils that are great for moisturizing and taming your beard. You may also use it as a hair oil.
Packed with therapeutic grade pure essential oils to promote hair growth, antibacterial and calming.
Our products aim to provide multi-sensorial experience and uses best quality ingredients only.
Recommended dosage of beard oil depending on length:
New hair: 1-2 drops
1 Month Growth: 3-4 drops
1 – 3 Month Growth: 4-6 drops
3 – 12 Month Growth: 6-10 drops
12+ Month Growth: 10+ drops
Ingredients: Jojoba, Argan Oil, Vit E, essential oils of Rosemary, Lavender and Cedarwood. 
No synthetic fragrances.
10mL