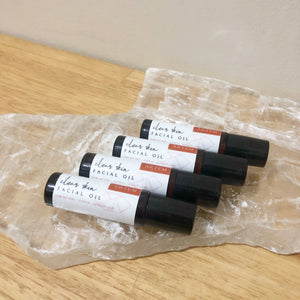 Lightweight and easily absorbed facial oil. Use as a spot treatment or face moisturizer.

Comes in a 10ml bottle with clear quartz crystal roller. Energy infused using crystals that may help you achieve brighter skin, anti-inflammatory and detox.
Made with organic cold pressed jojoba oil, rosehip oil, sunflower oil, vitamin, tea tree, black cumin seed oil, litsea oil, and geranium essential oil.
Each bottle has a rose quartz and amethyst stone inside to help heal and soothe skin.