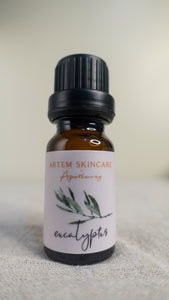 Botanical Name: Eucalyptus globulus
Origin: Australia
Process: Steam Distilled Essential Oil
Plant Part: Leaves
Cultivation: Wild Grown
Use: Aromatherapy / Natural Perfumery. Always dilute.
Note: Top Note
Aroma Family: Medicinal
Aroma: Penetrating, powerful, refreshing, medicinal/cineolic, with green, camphoraceous notes.
Contraindications: Avoid use on or near the face of infants or children under age ten.
10mL