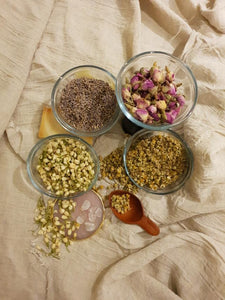 Loose Flower Tea
Caffeine-Free. Keep in airtight container, store in a cool, dry place.
French Rose Tea
Rose tea is fragrant, fruity and packed with vitamin C and antioxidants making it the ideal drink when your body needs a boost. It is excellent for the skin, can help you relax; caffeine-free and calorie-free which can even contribute towards your weight loss plan.
Lavender Buds Tea
Lavender tea can provide relief from inflamed tissues, arthritis, insomnia, high anxiety, gastrointestinal upset, tension, skin irritation, and headaches.
Jasmine Flower Tea
Jasmine flower tea is full of antioxidants which helps relieve stress, give you better sleep, improves blood circulation, boosts immune system, lowers and prevents high blood pressure and cholesterol, regulates kidney functions, enhances eyesight, reduces menopausal symptoms, and improves metabolism.


Chamomile Tea
Chamomile tea is a popular variety of tea that is loaded with antioxidants. Top health benefits of chamomile tea include the ability to regulate sleep, aid in digestion, boost immunity, protect the skin, lower stress levels, and soothe menstrual cramps. Due to its anti-inflammatory nature, it also helps assuage diarrhea and bloating.