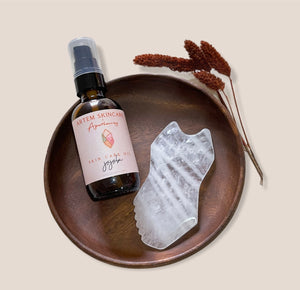 Our highly recommended skincare tool and our favorite skincare oil in one kit at a special price! (Save P700)
Jojoba is closest to our skin's own sebum which makes it an effective natural skin moisturizer.
A simple facial Gua Sha routine at home in a matter of minutes, can bring youth-boosting benefits and relieves tension from muscles of the face, boost blood circulation, and encourage lymphatic drainage to reduce puffiness.

What's in the kit?
- 1 Organic 1st-Pressed Jojoba 60mL
- 1 Goddess Gua Sha (choose between clear quartz or rose quartz)