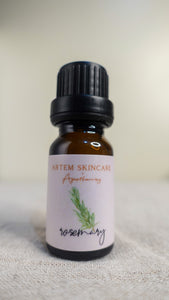 Botanical Name: Rosmarinus officinalis (L.) ct cineole
Origin: Spain
Process: Steamed Distilled Essential Oil
Plant Part: Leaves
Cultivation: Wild Grown
Use: Aromatherapy / Natural Perfumery. Always dilute.
Note: Middle Note
Aroma Families: Herbal, Medicinal
Aroma: Strong, fresh, smooth yet penetrating, woody-herbaceous aroma with a somewhat minty-green back note becoming a clean, woody-balsamic body note in the drydown.
Contraindications: Avoid use on small children, elders, pregnant/nursing women, etc.; please see Safety Considerations below.
10mL